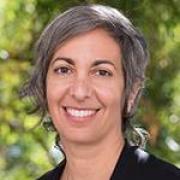 Galateia Kazakia, PhD
Human Metabolism Core Co-Director
Galateia J. Kazakia, PhD, is an Associate Professor in Residence and Director of the Bone Quality Research Laboratory in the Department of Radiology and Biomedical Imaging at the University of California, San Francisco. Dr. Kazakia serves as the Faculty Director of the Quantitative Musculoskeletal-Imaging Core, Director of the UCSF Core Center for Musculoskeletal Biology and Medicine (CCMBM) Imaging Core, and Co-Director of the Nutrition and Obesity Research Center (NORC) Human Metabolism Core. Dr. Kazakia received her BS in Mechanical Engineering from Cornell University in Ithaca, New York in 1995. She completed her PhD in Mechanical Engineering (with an emphasis on Bone Biomechanics) from the University of California, Berkeley in 2004. Dr. Kazakia was awarded an NIH F32 postdoctoral fellowship to develop bone imaging techniques, performing this work in the Musculoskeletal Quantitative Imaging Research group at UCSF. Dr. Kazakia joined the UCSF Department of Radiology and Biomedical Imaging as an Assistant Professor in Residence in 2009.
Dr. Kazakia's research is focused on the assessment of bone quality using both in vivo and ex vivo imaging tools, spanning the hierarchical levels of bone structure and composition. Through her research she aims to characterize changes occurring in the skeleton in response to aging and disease, to discover biological mechanisms of these changes, and to understand the impact skeletal changes have on bone strength and fracture risk.
Dr. Kazakia is an active member of the American Society for Bone and Mineral Research, the American Association for the Advancement of Science, and the Orthopaedic Research Society. Dr. Kazakia serves as a reviewer for >10 scientific journals, and she has published numerous peer-reviewed articles and conference abstracts.
Expertise:
Musculoskeletal Radiology
Specialty:
Musculoskeletal imaging, musculoskeletal diseases, CT, MRI, HR-pQCT, microCT, FTIR
Professional Interests:
Mineralization, bone quality, bone architecture, bone micro-damage, biomechanics, mechanical properties, fourier transform infrared (FTIR) spectroscopy, high-resolution computed tomography (CT), fluorescence imaging
Education and Training:
• Bachelor of Science: Cornell University, Ithaca, New York - Mechanical Engineering
• Masters of Science: University of California, Berkeley - Mechanical Engineering
• Doctor of Philosophy: University of California, Berkeley - Mechanical Engineering
Bio-imaging
Clinical Research