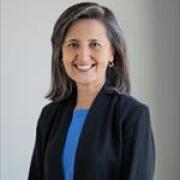 Alka Kanaya, MD
Human Metabolism Core Director
I have focused my clinical research in the field of type 2 diabetes and obesity and have developed a three-pronged research program that is unified under this theme. The first arm consists of using existing cohort studies to test novel biomarkers that predict diabetes and cardiovascular disease. The second arm is to create a South Asian cohort to study these risk factors in a very high risk group. The final arm is to test behavioral interventions to prevent the onset of diabetes.
The first arm of my research program focuses on understanding novel biomarkers secreted from adipose tissue that may be responsible for the metabolic sequelae associated with obesity. I assayed adiponectin from over 3,000 frozen serum specimens from a longitudinal cohort and have performed a series of analyses finding that abdominal visceral adiposity when directly measured by CT scan is significantly associated with type 2 diabetes and adipocytokines, proteins produced by adipose tissue, explain this association. We have found strong links between visceral adiposity and adipocytokines predicting risk of diabetes, cardiovascular disease, and mortality.
The second arm of my research program has been to establish a population-based cohort of South Asian adults. South Asians have very high prevalence of diabetes and cardiovascular disease and have been poorly studied. With a K23 grant from the NHLBI, I recruited 150 South Asians in a pilot cohort study which was modelled on the existing Multi-Ethnic Study of Atherosclerosis (MESA). In this project, called the Metabolic Syndrome and Atherosclerosis in South Asians Living in America (MASALA study), we have examined the relationship between metabolic factors and atherosclerosis measured by carotid ultrasound and coronary artery calcium. We found that compared to the four ethnic groups in MESA (Whites, African Americans, Latinos, and Chinese Americans), South Asians had higher diabetes prevalence[58] despite having favorable lifestyle risk factors. I received additional funding to study endothelial function in this cohort through the American Heart Association and we finished our second clinical examination visits in January 2010. I have been awarded a new R01 grant to expand and prospectively follow this South Asian cohort at two clinical sites to chart the natural history of diabetes and atherosclerosis and test novel risk factors. I have submitted another R01 grant to create a new multi-dimensional tool to measure cultural beliefs and adaptations among South Asian Americans. This project will involve both qualitative and quantitative methods and will help us understand cultural risk factors for cardiovascular disease in this high risk ethnic group.
The third arm includes testing behavioral interventions to prevent diabetes in high risk individuals. We have conducted a translational randomized controlled trial testing the effectiveness of a lifestyle intervention provided by the Berkeley Public Health Department to decrease diabetes risk factors in low-income ethnic minority groups. I have also completed a pilot randomized controlled trial to test the feasibility of Restorative yoga in overweight adults with the metabolic syndrome. We found that Restorative yoga was feasible with trends toward improvements in waist circumference and blood pressure in the yoga group compared to the control group. I have been awarded an R01 grant to test this intervention vs. a stretching control group in a multicenter randomized controlled trial called PRYSMS which is currently underway.
The three arms of my research agenda complement each other and provide fertile ground to develop and test new hypotheses with the ultimate goal of better caring for patients at high risk of diabetes and cardiovascular disease.
Clinical Research
Epi & Intervention